☆ What services do we provide?
ICBC New Zealand provides Corporate Online Banking services via secured banking network.
☆ Features and Benefits
1) Accounts
- Access to Online statement
- Account Payments and Balance enquiry
2) Transfer and Payments
- Local Payments
- Overseas Funds Transfer at Real-time FX Rates
- Inter Accounts Transfers
- Bill Payments
3) Term Deposit
- Deposit enquiry, set up and management
4) Foreign Exchange
- View Real-time Exchange Rate
- Transfer Funds between accounts converted at Real-time Market Rates
5) Customer Service
- View and update your details
- Change Passwords
☆ How to start using Corporate Online Banking
Open an account at ICBC New Zealand Banking by providing all necessary required materials. For more details of opening account, please refer to Institutional and Corporate - Accounts.
☆ What is the Corporate Online Banking opening process
Please refer below flow chart: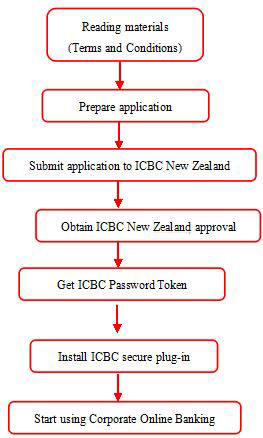 1) Please read the following materials carefully before you apply for Corporate Online Banking facilities: ICBC General Terms and Conditions, and ICBC Electronic Banking Terms and Conditions.
2) Please contact us for the latest Corporate Account Application Form.
☆ Warm reminder
1.We suggest you to use the following browser versions to access to our internet banking: IE6-IE11.
2.In order to use our Corporate Online Banking, please install our ICBC Online Banking Plug-in.
3.Please note Password Token has an expiry date, so please ensure it is valid at all times. Renewal of the Password Token prior to expiry is free of charge.
*The above information is provided for information only, and we recommend you contact us first before lodging any application. Please refer to ICBC NZ's Terms & Conditions relating to electronic banking application at www.icbcnz.com ICBC New Zealand Limited. All rights reserved.